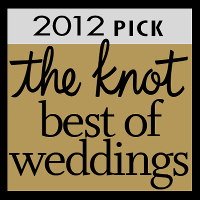 Excellent!!!
We had a 3 tier cheesecake wedding cake by Mrs. B. There was a different flavor for each layer. White chocolate seashells all around, with pearls on the top layer, and brown sugar "sand" between the layers and around.
Absolutely stunning! This was our splurge at our wedding and one of my favorite parts!!
5 years later, I still vividly remember Mrs.B and all the care and work she put into going above and beyond with our cake. (I have no clue where we got our flowers...they weren't as impressive!) :)
Pros: Beautiful, extravagant, delicious
Cons: None
Very nice lady, very professional. WONDERFUL cheesecake!! We are looking forward to eating our wedding cake topper since the rest of the cake was so delicious.
Awesome Wedding Cheesecake
The wedding was 9/12/08. We were very pleased with everything about the wedding cheesecake. We loved the look of the cake. We loved the taste of the cake. The bottom layer was choc/van, the middle layer was key lime and the top layer was coconut. It was excellent. Many of the guests have remarked on how delicious the cake was and several guests called us the next morning
Tasteful and Delightful Cakes
Hello everyone! I had the opportunity of receiving one of Mrs. B's famous cheesecakes for my Bridal Tea. Everyone loved the chocolate vanilla cheesecake. No one even knew that is was a cheesecake until they cut it. Everyone took a piece home, but made sure that I (bride) had the last piece. It was very tasteful. People are still asking me for Mrs. B's address and telephone number for their upcoming events. Mrs. B is now working on my wedding cake and I can't wait to see everyone's expression when they bite into it in
A Continous Blessing
Mrs.B's cakes are so good! Every morsel is filled with her dedicated time and hard work.I have been ordering cakes of all sorts from Mrs.B for almost 3 years and I am always happy at the end result.She always thinks of things to add that I may not think of and I appreciate all of them.She is definitely a master of her craft.You are truly missing out if you have never had at least one of her cakes!
Pros: A good to the last morsel type of cake
Best wedding cake ever!!!
Mrs. B. made our wedding cake in 2002. I was and still is the best wedding cake I have ever tasted. She made it exactly as I ordered and even met our florist at the reception hall to arrange the flowers on our cake exactly to our specifications, We only got the taste we gave each other at our reception but the top tier was just as good on our first anniversary!!! I would recommend Mrs. B to any bride who wants a wedding cake that is not only absolutely delicious but one that your wedding guests will always remember as being unique and DELICIOUS!!
Pros: DELICIOUS SAMPLES!! We bought a small cheesecake to take home!!!
Mrs B helped make my wedding perfect!
Mrs B was such a nice lady and I could tell she really cared about her customers and making them a perfect wedding cake! was also delicious and so beautiful!!!!!!!!!! I had so many guests at my wedding say the